Get to Know Our Team!
Joe Faulhaber, President
Author: Shannon Majewski
Corporate Responsibility
Published: Thursday, 12 Aug 2021
---
Sharing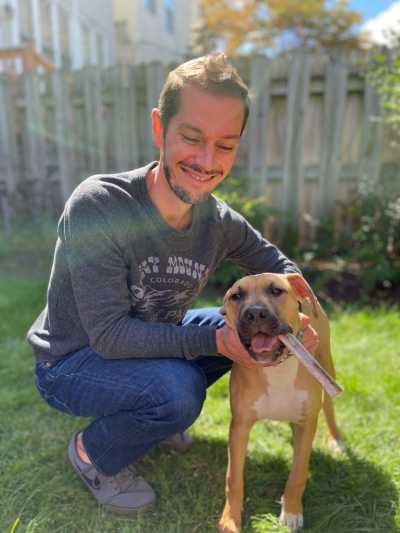 Image caption: Joe and Zoey
Joe Faulhaber has been President of Junior Achievement of Greater Cleveland for more than five years and is proud to lead our team!
Why JA?
"From an early age, I found myself contemplating two questions I'm sure many of us have at some point in our lives: 'What do I want to be when I grow up and how I am going to get there?' These questions ran through my mind often as a teenager and were a source of tremendous unease." I was a curious kid (and adult, for that matter) who found value in knowing all sides of an issue, weighing my options and critically thinking through the best course of action. How then, was I supposed to make decisions that would surely impact the rest of my life without knowing all the possible career paths I could explore?
Where would I start? How could I learn more about the opportunities I thought were interesting that also aligned with my skillset? What type of education was required for those careers and what type of life would they afford me? Will I be able to make a difference in the world? At best, the process was daunting and at worst, it was outright paralyzing.
Thankfully, I was on the younger side of a fairly large family. My cousins were all older and most were already forging their own career paths in the world. How lucky I was to have a built-in network of positive and concerned adults who cared enough to sit me down and try their best to respond to my never-ending questions.
Junior Achievement supports K-12 students on their academic journey and aims to help young people gain exposure to, awareness of and ultimately connect with, the world of work. Thanks to support from our dedicated group of passionate volunteers and funding partners, we also equip students with the financial literacy and entrepreneurial skills they will need to successfully pursue any career. As I reflect back on my 5+ years with Junior Achievement, the journey may have changed, but the North Star remains constant: As an organization, what can Junior Achievement do to ensure every young person is prepared to lead a successful life after high school, not just those whom are lucky, as I was years ago.
If you are interested in joining our cause and connecting lessons learned throughout your life with young people in Greater Cleveland, please consider volunteering with Junior Achievement. I promise you, it will be one of the most rewarding experiences of your life.
Favorite quote: "If not you, who? If not now, when?" -anonymous
Favorite piece of advice someone gave you: "No matter what you do professionally, remember to take care of others and consider a life of service."
Favorite thing to do after work: The list is endless! Explore Cleveland's food scene, spend time with family and friends, read, and spend time with my dog Zoey.
Select a button below to see how you or your organization can get involved with Junior Achievement of Greater Cleveland, Inc..
Donate
Volunteer
Request A Program