2022 Golden Ticket Raffle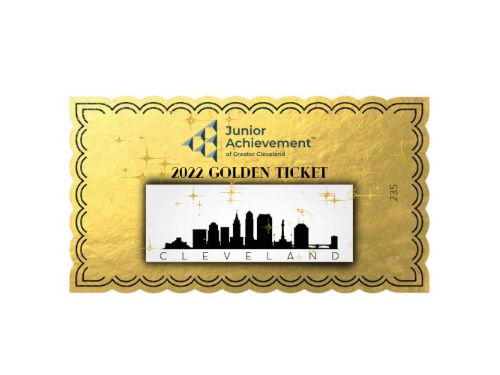 Event Completed!

When: Monday, May 23, 2022 - Friday, July 15, 2022
Where: Online
Time: 9:00 AM ET
One lucky winner will take home (2) tickets for:

Full Season - Cleveland Browns (2022)
Half Season - Cleveland Cavaliers (2022-2023)
Half Season - Cleveland Monsters (2022-2023)
Half Season - Cleveland Guardians (2023)

The Golden Ticket Raffle supports entrepreneurship, financial literacy, and career-readiness programs for students in Cuyahoga, Geauga, Lake, and Lorain counties. Each ticket purchased provides Junior Achievement's programming to two students in the Greater Cleveland area. Will you be the lucky winner? Only 1,000 raffle tickets will be sold! Buy your tickets now before they sell out!

Terms and conditions: You must be a resident in the state of Ohio in order to win. The winner of the 2022 Golden Ticket Raffle may not resell tickets for the Cleveland Cavaliers or Cleveland Monsters and doing so may result in a loss of ticket membership. The winner is allowed to transfer tickets to the Cavs and Monsters for others to use as long as they do not transfer more than a majority of the tickets. The winning ticket number will be drawn using the Ohio Lottery Pick 3 on Friday, July 15, 2022. The winning ticket number must match exactly the order of the Ohio Lottery Pick 3 numbers to win. If all of the ticket numbers are not sold by the date of the drawing, and the winning number selected by the Ohio Lottery Pick 3 drawing is not one of the tickets sold, JA will use the subsequent 5 Ohio Lottery Pick 3 drawings (evening and afternoon) until a winner is selected. If at the conclusion of the 5 subsequent drawings a winner is not selected, JA will utilize a random number generator to draw the winning ticket.
Become a Sponsor!
Sponsorships for these events are critical for Junior Achievement to continue providing life-changing programs to students in our community. These programs are delivered at no cost to students. You can make a difference in the lives of these students by participating in this world-class event!
Contact us
to get more information on how to sponsor a JA Event!
Select a button below to see how you or your organization can get involved with Junior Achievement of Greater Cleveland, Inc..
Donate
Volunteer
Request A Program