Junior Achievement Junior Board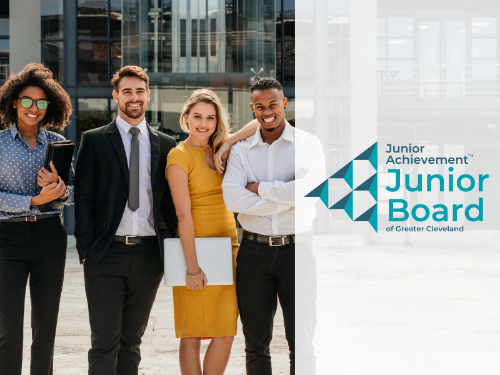 Junior Achievement's Junior Board is a group of innovative, energetic, and philanthropic young professionals with an interest in supporting financial literacy, work-readiness, entrepreneurship, and economic success among students in the Cleveland area. Members are ambassadors for JA throughout the city and work to support the organization's mission.
Our members have a future interest in chairing a nonprofit board. By joining our board you'll gain the experience and exposure that's necessary to do just that. In addition to being an ambassador for JA, Junior Board members will participate in board networking events, professional development opportunities, and inspiring fundraisers.
Contact Amanda Dureiko at adureiko@jacleveland.org if you are interested in learning more!
Click here to become a member!
"Junior Achievement reinforced concepts for me to remember later in life."
Junior Achievement Student
"I thought the experience was amazing. The presentation was unlike anything I've seen."
Junior Achievement Student
"Junior Achievement has given me a sense of what adults go through with budget issues."
Junior Achievement Student
"I liked how the Junior Achievement volunteer explained his job to us."
Junior Achievement Student